Have you met Dawn yet? =)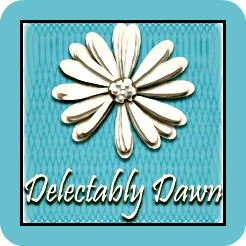 Dawn from Delectably Dawn!
More about Dawn from her Blog:
"I have two gorgeous and vivacious little girls and a son on the way."
"I love so many things."
"Owls, they're one of my favorite things ever. Coffee is number one though. I have this awesome coffee mug...it's shaped like an owl. Because that's the most amazing thing EVER. I love to cook, and from what I hear I do it well. I rarely follow recipes, I look at them like templates. I paint (not very well) I read (mostly Stephen King...don't judge) and I watch tons of movies with The Mister. I like to do crafts with my kids because if they suck, well...the kids did it. I have tattoos, one of which covers better than 3/4 of my back. I have a new hobby, jewelry making. I've taught myself how to wrap wire and bead. There's tons more..."
Dawn's Blog is a Pinterest Dream!! With lots of
Mommyness,

DIY, Delicious Recipes and Humor!


Dawn's Story in her own words:
"I'm Dawn. I just do what I love and love what I do. I'm a coffee drinking, craft making, dinner cooking, soul searching, fun loving mama and wife. But I'm also so much more!
In my blog you'll get the chance to see me struggle, see me laugh, and live the life I have. I'll share my experiences with you, and hope to hear some of yours as well! This life is a better place when we can learn from one another."