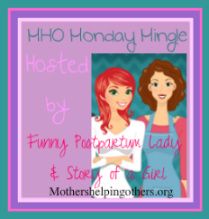 Welcome back to the Monday Mingle!
Hosted by
This weeks theme: Birthdays
1. When is your Birthday?
November 2 (Not interested in sharing the year lol)
2. Do you normally have a big party?
Nope, Just Dinner and Hubs or My mom always gets cake, ice cream, all the staples. :) After kids, no more big parties lol

3. When are your SOs and kids birthday? Do they fall close together?

Hubs is August 22 ~ Oldest's is November 11 (9 days after mine) & Youngest's is September 2 (11 days after Hubs)
4. How do you celebrate their birthdays?
Same for Hubs as mine:) I always go a little over board for the boys though.. I can't help it.. I <3 Holidays and Birthdays and want them to always have awesome memories! I like lots of kids, plenty of food with a cool cake, and something really fun for them to do. We usually rent the pool, park, rec center, or bowling alley.
5. If you could have one thing for your next birthday what would it be?
A trip to a spa! Just for the day, heck, just for an hour!

Okay, now it's your turn. Grab the button and questions and repost on your page!!! You don't have to answer the questions, you can just repost the button on your sidebar or in a post. Link your page or post up and mingle with other bloggers!!! No rules, just meet new people!