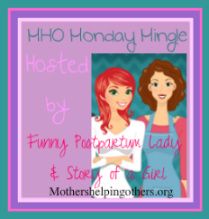 Welcome to the Monday Mingle!
This Week's Theme: LOVE
1. Who was your first love?
It's a little corny, but my "husband". We were 14 when we met and we've been in and out of each other's lives since.
2. Do you remember your first kiss?
Somewhat, I have a Horrible memory.. but I was about 14.. and it was awkward lol.
3. What are your plans for this Valentine's Day?
Nothing special, dinner at our favorite Chinese restaurant. We've thought about actually spending the night alone somewhere, not sure that will happen though.
4. What do you love most about your Significant Other? If you're single, what quality do you look for the most?
I love how we just mesh so well. It's just easy and we've grown up together. He has turned into such a great man! I love most that I can trust him so much.
5. What would be your DREAM gift for Valentine's Day?
A back rub and a night to ourselves lol.. Worry free, is that even possible??
Okay, now it's your turn. Grab the button and questions and repost on your page!!! Link your post up and mingle with other bloggers!!! No rules, just meet new people!